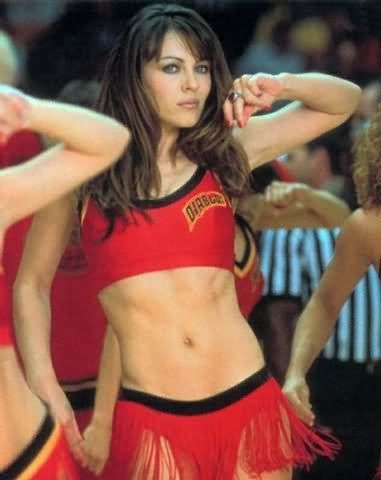 This is a
BAD GIRL SCENE
from
The Devil Gave Me Autumn
, currently being considered for publication.
Ms. Black. Oh my God, how I LOVE Ms. Black.
From
Write Runner's Bad Girl Blogfest
:
click
- Eric
***
Dylan glanced over his left shoulder, checking his blind-spot, and saw a stunning face in his window: a black-haired woman, smiling, wearing a satin brown blouse and black skirt, floating next to his car. The woman's black hair and blouse were unblown by the wind. Glancing down at Dylan, her arms folded across her chest, the woman glided with Dylan's Mercury down Highway 66.
"What the fuck!" Dylan instinctively pressed his foot against the accelerator, and the Mercury surged forward at an incredible speed, well beyond the aging engine's capability, slamming Dylan against the seat.
The floating woman suddenly became animated. Her well-manicured fist shattered the driver's-side window. Broken glass sliced into Dylan's cheeks, and hot summer air rushed into the car as the woman touched Dylan's steering wheel with one long finger, steering the car to the right as Dylan was about to cross the bridge over Lake Ray Hubbard, clipping Villanova's Civic before his Mercury launched off the pavement.
Dylan's Mercury missed the bridge railing and bounced down the embankment. At the bottom of the slope, the Mercury wedged into the muddy bank, then the momentum flipped the car upside-down into the shallow lake water.
Shaken, locked by his seatbelt into his overturned Mercury, Dylan disentangled himself from the airbag, and saw the black-haired woman, upside-down from his point-of-view, still floating next to his driver's side window, hovering over the mud. "What the fuck are you!" Dylan asked the woman.
The black-haired woman gripped Dylan's chin, holding his head beneath the water as his body dangled feet-up from the seat.
"I'm no angel, dear. Now hold still."